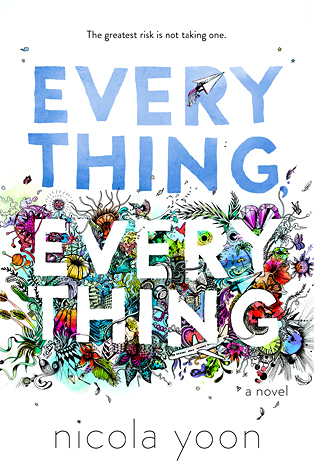 Description from Goodreads
This innovative, heartfelt debut novel tells the story of a girl who's literally allergic to the outside world. When a new family moves in next door, she begins a complicated romance that challenges everything she's ever known. The narrative unfolds via vignettes, diary entries, texts, charts, lists, illustrations, and more.
My disease is as rare as it is famous. Basically, I'm allergic to the world. I don't leave my house, have not left my house in seventeen years. The only people I ever see are my mom and my nurse, Carla.
But then one day, a moving truck arrives next door. I look out my window, and I see him. He's tall, lean and wearing all black—black T-shirt, black jeans, black sneakers, and a black knit cap that covers his hair completely. He catches me looking and stares at me. I stare right back. His name is Olly.
Maybe we can't predict the future, but we can predict some things. For example, I am certainly going to fall in love with Olly. It's almost certainly going to be a disaster.
It might be because I kept seeing this cute guy at the university while reading Everything, Everything, I ended up loooved this novel. The feelings Madeleine, the tragically allergic main character, developed and experienced made me sympathise with her to so much. In fact (haha), I kept internally screaming "Oh Madeleine, hang in there sister!!" and making very audible sighs as I read, a rarity for me nowadays. It wasn't only the romance and the intelligent dialogue, but also the beautiful illustrations and varying typologies/formats Yoon used to create this immensely entertaining and moving novel, that made me fall in like (an inside joke, read the book) with the novel.
"Maybe growing up means disappointing the people we love."
Madeleine has lived all her life in a sterile, all-white house with her mother and her nurse, while Olly has had a prison of his own made by his abusive father. The way Yoon brought these two people together making them connect on a such deep level through their different kinds of imprisonment, one transparent while the other physical, makes me just ache to experience a similar bond like that myself one day. Olly and Madeleine were just so incredibly right together, and I adored the way Yoon conveyed how exciting a new relationship can be. However, while Madeleine's inner monologue was a bit mushy from time to time, in a way it felt so right as she was experiencing romantic love for the first time. And like all the first things, first-loves (particularly) make you see things in a different light and even act completely unlike yourself.
"That night, I dream that the house breaths with me. I exhale and the walls contract like a pinpricked balloon, crushing me as it deflates. I inhale and the walls expand. A single breath more and my life will finally, finally explode."
While the romantic aspect of the book is in the limelight, the novel is so much more. It's about taking risks and making mistakes, and through your choices you find who you really are and what you held dear. You just have to figure it out what is worth risking. Through Olly, Madeleine starts to fully realise that the four protective walls, favourite novels, and movie nights with mom may not be enough for her, not really. Even though she knows that those things are a privilege in some sense, she is desperate to know if there's more to life than that. And who wouldn't? Especially when someone like Olly (a funny, sensitive, and not too bad-looking) is willing to show you everything there is to life. The question is, is Madeleine really living if she is cooped up in her room, when all she wants to do is go outside? But will Madeleine risk her life (literally) for a few days of without-limits living?
"You're not living if you're not regretting." What am I going to regret?"
The fact that I've included some quotes from the novel should speak volumes - I rarely add quotes to my reviews. I loved Yoon's style of writing and how it shaped the mood and the overall tone of the novel. The novel was full of optimism and sunlight, but without being overly ecstatic, as there was this constant gloominess lurking in the corners as well. For instance, the author wrote Madeleine's house all-white to symbolise how Madeleine's life was clean and pure made by her mother, causing Madeleine's life lack colours, or in other words, experiences. However, even though Madeleine is obedient, she is also curious, so she starts to rebel, bringing colours to her life with her clothes, transforming attitudes, and of course, through Olly.
I suppose, the book wasn't exactly perfect, though. Despite the fact that the surprising ending was the perfect addition, I wasn't completely satisfied how it was handled. As I don't want to spoil the book for you, let me just say that the conclusion felt a bit rushed and therefore (at least for me) lacked the impact that I think it was supposed to have. Even a chapter more to handle the issue would have made me a lot happier, but I guess you can't get it all. After all, Madeleine didn't get it all either (or did she?). And that's why my rating is 4/5 stars.