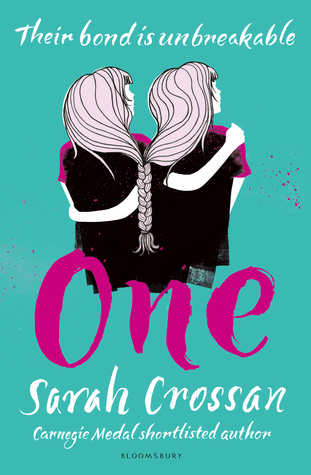 Grace and Tippi are twins – conjoined twins.
And their lives are about to change.
No longer able to afford homeschooling, they must venture into the world – a world of stares, sneers and cruelty. Will they find more than that at school? Can they find real friends? And what about love?
But what neither Grace or Tippi realises is that a heart-wrenching decision lies ahead. A decision that could tear them apart. One that will change their lives even more than they ever imagined…
From Carnegie Medal shortlisted author Sarah Crossan, this moving and beautifully crafted novel about identity, sisterhood and love ultimately asks one question: what does it mean to want and have a soulmate?
I'm considering very seriously about buying my own copy of One. I was fortunate enough to get an advanced reading copy, and even though I instinctively knew that it was going to be a powerful reading experience, I wasn't really expecting One to make me cry. The novel was loaded with dreams and hopes, but also with very deep sense of longing and sadness - in a way a perfect depiction of a teenager in an unusual situation.
The lyrical and mesmerising, occasionally very poetry-like language absolutely blew me away; it me to read the whole novel in one site, in a matter of couple of hours. I was constantly wanting more and more of the tragic yet also optimistic story Grace and Tippi as Crossan was able to write such a powerful message through their experiences. I don't usually care for teenage angst, but the author succeeded in writing the swirling emotions in a relatable and justified manner, and I was on board with Grace and Tippi, never leaving them emotionally.
The twins aren't described as either sins or sinners, but as real persons with real emotions sometimes being irritating and other times completely sympathetic - and that was so awesome. It is okay to be a pain in the ass from time to time, after all, we all are humans we have different ways to cope with difficult situations. The girls, especially Grace ,was struggling to be recognised as an individual yet wanting to be a part of the duo she and her sister created.
I also loved the honest angle that Crossan took with One. By this I mean that the author wasn't afraid to disclose the equal wonder and, unfortunately, hate towards the co-joined twins and how Tippi and Grace had learnt to deal with all the attention and curious looks they had been receiving all their lives. All the descriptions and emotions were unflinching and therefore so moving and thought provoking. Of course, being different from others was bothering both of the girls to some extent, but I loved the fact how the sisters were also content, perhaps even proud, to be Siamese twins - they couldn't imagine life without the their other half, literally and metaphorically.
I think you really need to read the novel to really get a sense what I'm trying to convey here about One. The novel was honest, poignant, and heart-wrenching at least in dozen different ways, and I'm really glad I had the chance to read it. I was expecting a semi-light read about a Siamese twins, and instead I got a moving tale of two sister who loved each other more than anything yet trying to find their own place within the world while being physically limited in their goals.