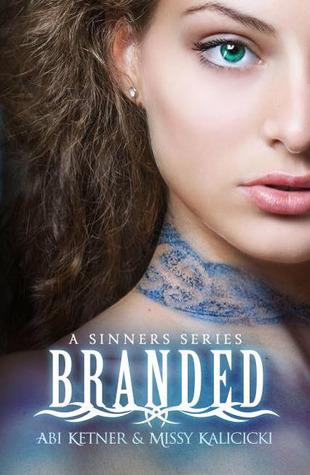 Description from Goodreads:
Fifty years ago the Commander came into power and murdered all who opposed him. In his warped mind, the seven deadly sins were the downfall of society. He created the Hole where sinners are branded according to their sins and might survive a few years. At best.
Now LUST wraps around my neck like blue fingers strangling me. I've been accused of a crime I didn't commit and now the Hole is my new home.
Darkness. Death. Violence. Pain.
Now every day is a fight for survival. But I won't die. I won't let them win.
The Hole can't keep me. The Hole can't break me.
I am more than my brand. I'm a fighter.
My name is Lexi Hamilton, and this is my story.
It had been a really long time since I had read a dystopian novel, so when I came across with
Branded
on NetGalley, I immediately requested it. I can't say that I had heard before about a novel in which there was a society which had created a new law system which dictates by branding the law breakers with neck tattoos so everyone could see what you had done (even though the dictator element is rather unoriginal). However, as intriguing as the description is, sadly I have to say that the book wasn't 100% to my tasting.
The concept in the book is just really intriguing, even if a bit used. A young woman is wrongly accused and
convicted of adultery and receives a blue brand of it on her neck while shipped to the Hole where all the other Sinners live and work - not really an ideal place for physically and mentally vulnerable girl, especially when everyone thinks that she has committed a lust crime. The story in itself kept me captivated the whole time and I think that the twists and relationship buildings were intriguing, even though the authors could have worked more on the world building which was rather superficial.
I was pleasantly surprised with the relationship establishment between Lexi and Cole. I was expecting insta-love, but there was none! And there even weren't that many typical smouldering looks exchanged in the beginning which made their relationship so much more believable and interesting to follow. After all, they were meant to be on the opposite sides. Cole was pretty dreamy from time to time with all his protectiveness and lopsided grins, but I didn't find him to be that original to be honest. Lexi on the other hand got all my respect for showing that even though she had feelings for Cole, he didn't end up being her whole world (even if Cole wanted so).
However, my main problem with the book was the writing. I mean, I consider myself as a pretty forgiving when I read debut novels, but I do have to set the line somewhere. The storytelling in itself wasn't really that bad, but the dialogues between the characters, especially towards the end, were just unsatisfactory. The conversing between Lexi and Cole was filled with cliches and was awkward at times - it was just too pretentious, but ironically it hadn't any impact on me. The conversations just made me cringe as they were so over the top and epic. Is it too much to ask if the chats were a bit more down to earth from time to time?
I'm actually a pretty bummed out that I didn't like Branded more. I read the first 50% in one sit as the story was really captivating, but eventually the less-than-mediocre writing caught up and made my progression with the book so much more difficult. I enjoyed the story, but I didn't appreciate the pro. I think quite many probably will enjoy the book though as the romance was pretty intense and a lot happens in this first book of Sinner's series. I, however, just couldn't get over the pretentious language which really made me like the book less. Actual rating 2.5.