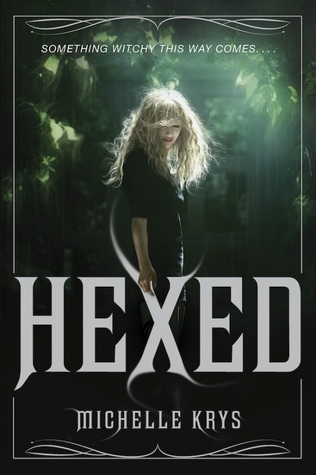 Description from Goodreads:
If high school is all about social status, Indigo Blackwood has it made. Sure, her quirky mom owns an occult shop, and a nerd just won't stop trying to be her friend, but Indie is a popular cheerleader with a football-star boyfriend and a social circle powerful enough to ruin everyone at school. Who wouldn't want to be her?
Then a guy dies right before her eyes. And the dusty old family Bible her mom is freakishly possessive of is stolen. But it's when a frustratingly sexy stranger named Bishop enters Indie's world that she learns her destiny involves a lot more than pom-poms and parties. If she doesn't get the Bible back, every witch on the planet will die. And that's seriously bad news for Indie, because according to Bishop, she's a witch too.
Suddenly forced into a centuries-old war between witches and sorcerers, Indie's about to uncover the many dark truths about her life—and a future unlike any she ever imagined on top of the cheer pyramid.
I recently read
Half Bad
by Sally Green and I was pleasantly surprised that for the first time in a really long time, I actually enjoyed a book about witches.
Harry Potter
series definitely has set an eternal sky-high bar for anything witch related. So, as I had just read a good witch book, I decided that maybe I should try another one - just to test the ice. I came across with
Hexed
and it had gotten plenty of good reviews and had a rating of 4.02 on Goodreads at that time, so I decided to give it a try. It ended up being what I had expected it to be - a relatively light read with teenager drama and good looking guys.
There is this one thing that I can't tolerate: high
school drama. And we got plenty of it in
Hexed
. I could immediately sense this mean-girl setting, which definitely made me less excited for the book. Indigo and her best friend Bianca have gotten into a cold war as Indigo has managed to catch herself the captain of the football team. Bianca of course can't stand this fact, and despite being Indigo's oldest friend, she tries to make her life miserable. I think I could have endured this without any struggle if it wasn't for the fact that Indigo herself wasn't the kindest person around. She pushed around and used her nerdy neighbour Paige who does everything Indigo says in the hopes of being her friend. NOO. I didn't like this at all. I just wanted to punch some sense into Indigo as all she could think about if her denim miniskirt looked good with her suede boots. Luckily though, she does experience some character development and I didn't hate her as much in the end as I did for the first 50%.
To be honest, I'm in a hate-love relationship with majority of the characters who are in this book. The mysterious Bishop who comes around to ease as well as complicate Indigo's life was almost as infuriating as she was. He kept making these sexist remarks and suggestions which made (and luckily Indigo too) furious. However, the readers eventually learn something about Bishop which made at least me like him better. In the end, I actually found myself smiling to his remarks, and I think he was pretty good for Indigo, unlike Devon - Indigo's football captain boyfriend (yuck). I'm definitely rooting for Bishop and Indigo now, but I still can't completely forget his aggravating behaviour. However, now that I know that there is a reason behind it, I feel like it makes it a little bit less worse. And I suppose Bishop was kind of cute and sweet as well, even though the bad boy with tattoos and longish hair type isn't exactly my first choice.
Most likely, the reason for the fact that I didn't really get into the story before I had already read 50% was because of the reasons above. There was just too much high school drama and too little magic stuff. The action and interesting revelations however in the half way were able to save the story from utter disaster to which it was first headed. I wish the story was more concentrated on the new knowledge of magic and practising it, rather than Bianca-Indigo, one-oh-one, drama. Thanks to this, the story felt a little superficial and the time devoted to the drama could have been used more wisely - maybe on the establishment of Indigo's relationships and her feelings about the witchery. Nevertheless, even though the story in general didn't really bring anything original to YA genre, I found myself entertained by the story. It definitely had its funny and deep moments too, and I can see why some many had enjoyed reading the book. I just might be a bit too old for this type of books - not for YA genre but the unnecessary teenager drama.