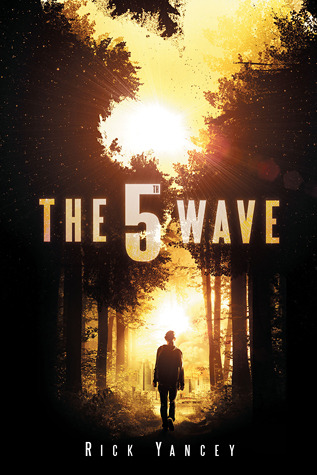 Description from Goodreads:
The Passage meets Ender's Game in an epic new series from award-winning author Rick Yancey.
After the 1st wave, only darkness remains. After the 2nd, only the lucky escape. And after the 3rd, only the unlucky survive. After the 4th wave, only one rule applies: trust no one.
Now, it's the dawn of the 5th wave, and on a lonely stretch of highway, Cassie runs from Them. The beings who only look human, who roam the countryside killing anyone they see. Who have scattered Earth's last survivors. To stay alone is to stay alive, Cassie believes, until she meets Evan Walker. Beguiling and mysterious, Evan Walker may be Cassie's only hope for rescuing her brother—or even saving herself. But Cassie must choose: between trust and despair, between defiance and surrender, between life and death. To give up or to get up.
The 5th Wave
was definitely something that I couldn't have predicted to like so much. I feel like the book included pretty much everything that I want to have in a science fiction novel: characters who react to intense situations in a very realistic manner, there are unbearably thrilling and nail-biting scenes, and a very original and captivating premise.
I don't read that many alien books, but the take Yancey had taken on while writing this book was extremely compelling and fascinating. The different waves of alien attacks and their impacts on the human society never ceased to amaze me. Yancey was very elaborate while describing the attacks which took me a bit surprise but also made me very pleased - it's all in the title after all. The 5th Wave is a very survival focused book, but there still are elements of romance, thriller, and mystery as well. I feel like the author was able to write a very comprehensive book about a young girl's lonely struggle in the world,

yet it felt so much bigger piece of literature. The novel also is about the survival of the humanity.
The book definitely is a page-turner. I kept reading late into the night until my eyes hurt and I couldn't read properly

without my glasses. The first thing the next morning was me reading the book in the breakfast table, unable to put it down even for a little while. The reader has to constantly worry about who can be trusted and what are the consequences of trusting someone. I had so many ideas and conspiracy theories in my mind! The main protagonist is Cassie, but the book also includes chapters from other character's point of views which I first shunned a bit, but quickly grew on me. Those different p.o.vs unquestionably brought a sense of coherence and unity to the whole plot as well as intrigue and insight that the characters themselves didn't have.
At first, I was under impression that the book wouldn't really have a romance aspect to it, and while it wasn't a prominent element, I was pleasantly surprised how well it fitted the overall story. I didn't see the romance coming, so it might have caused me to like it even more than if I was anticipating it. Some may say that it was insta-love but I don't really see it that way. I don't want to say anything else about it if you haven't read the novel yet, but I didn't see it as instantaneous as there were resistance and suspicion involved as well.
The second book, The Infinite Sea was published last Fall, and I'm dying to read it but also a bit hesitant. I absolutely adored the 5th Wave, and I'm so afraid that the second book won't meet my expectations. Fear not though, I'm going to read it, but I just need to muster all of my courage to continue the series - I don't wan't to be let down. A must read for everyone, as the 5th Wave is one my favorite YA books!