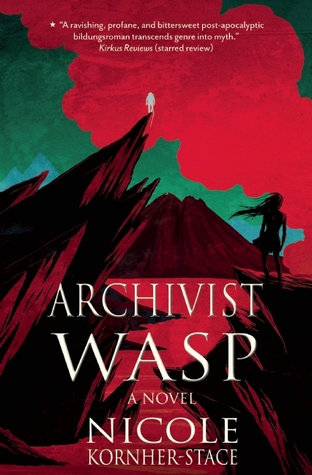 Description from Goodreads
Wasp's job is simple. Hunt ghosts. And every year she has to fight to remain Archivist. Desperate and alone, she strikes a bargain with the ghost of a supersoldier. She will go with him on his underworld hunt for the long-long ghost of his partner and in exchange she will find out more about his pre-apocalyptic world than any Archivist before her. And there is much to know. After all, Archivists are marked from birth to do the holy work of a goddess. They're chosen. They're special. Or so they've been told for four hundred years.
Archivist Wasp fears she is not the chosen one, that she won't survive the trip to the underworld, that the brutal life she has escaped might be better than where she is going. There is only one way to find out.
How on Earth am I going to review this book? While I was reading Archivist Wasp, I was adoring the language, hating the all unanswered questions, respecting the bold concept, but also a bit bored from time to time. The relationship that I formed with the novel is one of those I-hate-you-but-I-love kinds, so I apologise my (most likely) incoherent ramblings.
First of all,
Archivist Wasp
was so different than I expected it to be! It's classified as a young adult novel on Goodreads, even though I personally would see it as an adult fiction book. But putting that aside, this book was so unique. I don't think I've ever read a novel that was a dystopian, science-fiction, paranormal, and post-apocalyptic all at the same time. I don't usually like books to mash up genres so daringly, but I have to respect the ambition to create something completely diverging from the generic YA scene. I think the author succeeded in knitting the genres together seamlessly, and to my surprise I was quite enjoying the mix of different themes of the genres.
But I had sooooo many questions about the plot and the characters, and even though I usually enjoy ambivalence, this time it was frustrating. What was the story behind Catchkeep-priest (Wasp's superior) and his motivations? How come the Archivist structure was so successful for such a long time? Why finding knowledge about the pre-apocalyptic world was so important that a whole society was created around it? How did the ghosts come about, and why they weren't in the pre-apocalyptic world? What was the life of an Upstart (a novice, before you could become an archivist like Wasp) like and how were they prepared for their potential futures? How did the high tech described work?? So many questions, and while some of these were answered, I wasn't very satisfied with the ones that I got.
However, despite all the confusion that I couldn't dismiss, I was rather captivated by the whole concept. Wasp was a very solitary being, her life dictated by Catchkeep-priest and the hunting of ghosts to gather knowledge about the world before. And then, the ghost appears who can actually communicate with her comes along and asks for her help (the ghost usually can't communicate at all which obviously intrigues Wasp from the first moment). I found it really fascinating how Wasp and the ghost ventured into afterlife, and how this great beyond was characterised. (Even though I'm also a bit puzzled why Wasp was so eager to help the ghost..) There are plenty of flash-backs (kind of) back to the world before, and that science fiction world presented through the memories was really intriguing. And in fact, that supersoldier world probably was the best part of the novel.
But then there is the dark side of the things.
Archivist Wasp
was also heavily dragging at times. I could be very entertained for a good half an hour while I read, but then the next hour could be quite dull. And this went on and off. On and off. Hence, the love-hate relationship.
I really don't know whether I want to give
Archivist Wasp
1 star or 5 stars. It definitely requires a second reading, because the writing was very dense at times - it was a very visual and heavy on the inner monologue. In fact, I think I would probably liked the book better the second time around. But now, I'm feeling very confused and contradicted. I have to give to the author that the novel was a very different from the generic YA novels (a merit in itself already) and Kornher-Stace clearly is a talented story-teller and writer.
I'm a bit of at loss for words here.