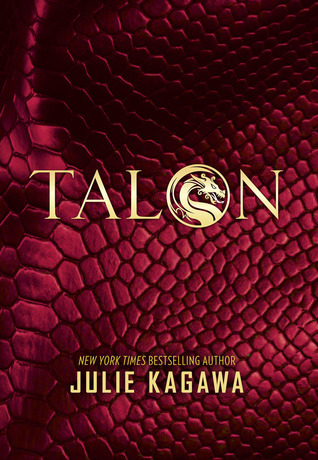 Description from Goodreads
Long ago, dragons were hunted to near extinction by the Order of St. George, a legendary society of dragon slayers. Hiding in human form and growing their numbers in secret, the dragons of Talon have become strong and cunning, and they're positioned to take over the world with humans none the wiser.
Ember and Dante Hill are the only sister and brother known to dragonkind. Trained to infiltrate society, Ember wants to live the teen experience and enjoy a summer of freedom before taking her destined place in Talon. But destiny is a matter of perspective, and a rogue dragon will soon challenge everything Ember has been taught. As Ember struggles to accept her future, she and her brother are hunted by the Order of St. George.
Soldier Garret Xavier Sebastian has a mission to seek and destroy all dragons, and Talon's newest recruits in particular. But he cannot kill unless he is certain he has found his prey: and nothing is certain about Ember Hill. Faced with Ember's bravery, confidence and all-too-human desires, Garret begins to question everything that the Order has ingrained in him: and what he might be willing to give up to find the truth about dragons.
I absolutely loved Kagawa's the Iron Fey series (but I still have to read the Iron Fey: the Call of the Forgotten), so when I heard that she was publishing a new series, Talon, it was pretty obvious that I was going to read at least the first book. It took a bit longer than I first assumed to get the book, because my initial excitement was some what lamed after I read some bloggers' reviews of Talon and it had been a bit of disappointment for them. However. I really wanted to give it a shot myself, knowing how Kagawa can engage the readers with her stories.
I was admittedly having difficulties getting into the storyline, as I was expecting this very epic, kick-ass tale of a dragon-shapeshifter girl, like apparently some other readers had expected. Instead, what we ended up getting was this cute summer romance book laced with a bit of fantasy. Even though this was a bummer, I quickly overcame my disappointment when I realised that the book was actually pretty entertaining. The characters were surprising, the plot was quite fast-paced, and the romance was tingling too. If Julie Kagawa is something, she is a really talented storyteller, even though at times I wished for a bit more polished prose.
Even though the story might not be the personification of originality, the author knows how to captivate the readers and write her books so that reading almost becomes compulsive. There's constantly something happening in Talon, and the alternating point of views don't make the readers bored. Especially when the different perspectives make you want to squirm in your chair or just sigh out loud. "Just get together already!!" "Oh no no no no, get out get out!!" Like already mentioned, I was having a bit rough start with Talon and didn't really like it at first that much, but after a while I really started to enjoy the book and ended up reading it just in two sits.
While Ember was a fun and cool main character, all my love went for Dante and Garret. Those two just had something in them that made me instantaneously like them. Maybe it was Dante and his playfulness and wit, while Garret was the brooding, misunderstood yet incredibly kind guy, but I just wanted the whole novel to be about those two - they knew which heartstrings to pull!
But, I didn't really appreciate the fact there was a really strong love-triangle going on. Sometimes I do like triangles (when my team is obviously going to win or when I like both contenders a lot), but this one just. No. No No NO. I was team Garret right from the beginning, and when the second guy came around I was just pissed off and dreaded the moment when he would show up again. It's not like the other guy was horrible per se, but I just didn't like him at all. Which is actually kind of weird because I often tend to like the tall, dark bad boys a lot. But didn't do the trick this time.
Talon is a bit of a question mark for me. While I liked the fast-paced plot and the characters (well, the majority of the characters), I was also a bit let down that Talon wasn't as fantasy-saturated as I hoped it to be. I was expecting a kickass, epic dragon tale, but it was more of a relationship-orientated with some action. I would like to think that the second book is better, considering that I now what to expect, and I think I will buy the second book at some point. But, not the best of Kagawa, in my opinion. Actual rating 3.5.