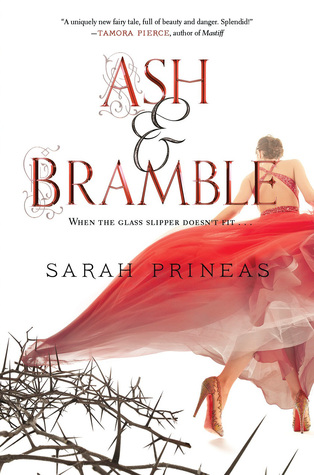 Description from Goodreads
When the glass slipper just doesn't fit…
The tale of Cinderella has been retold countless times. But what you know is not the true story.
Pin has no recollection of who she is or how she got to the Godmother's fortress. She only knows that she is a Seamstress, working day in and out to make ball gowns fit for fairy tales. But she longs to forsake her backbreaking servitude and dares to escape with the brave young Shoemaker.
Pin isn't free for long before she's captured again and forced to live the new life the Godmother chooses for her—a fairy tale story, complete with a charming prince—instead of finding her own happily ever after.
Sarah Prineas's bold fairy tale retelling is a dark and captivating world where swords are more fitting than slippers, young shoemakers are just as striking as princes, and a heroine is more than ready to rescue herself before the clock strikes midnight.
Ash & Bramble is most definitely one of a kind retelling of Cinderella. And to be honest, a very different retelling of many other fairytales. I was immediately captivated by the story when it started off with a very cryptic passage of meaning of stories and their power, and soon after the readers were thrown into this dark, oppressed world. It was all so mysterious and interesting that I was already forming a raving review in my head. But. The famous but. I'm afraid it all went downhill from there, in a vertical position.
I found the concept (which also basically was the big reveal/twist - don't worry I won't spoil it) very intriguing, but also massively ambitious which I have to give to the author - it was a fantastic idea and very original at that. However, I feel like the execution of it wasn't very good. Even though it was explained and demonstrated in interesting ways, I couldn't help but feel that is was half-way done. As this reveal/twist in the plot line was also the heart of the whole novel and the driving force of the characters and all the events, I wished it had something a bit something extra to it. Maybe the word that I'm looking for is personification, and even though I suppose it was done in a way, I wouldn't have complained at all if the readers would have learned more about the big reveal and its origins. This probably doesn't make any sense to those who haven't read the book, but I hope it does to those who have. Long story short, even though the main twist was a fascinating concept (which was also the basis for the whole novel) it felt somewhat lacking to me.
Another thing why I didn't come to like the book as much as I had hoped, was because it dragged, dragged, and dragged. There were pages and pages of events which didn't really add up to anything in the end or didn't really have any plot driving force. I think the first 20% and the last 20% were the most interesting parts of the book, but all the rest just plain boring. Even though there was something going on all the time, I just didn't find the events that compelling and I ended up power-reading majority of the time. And this probably was the greatest deal-breaker for me. I just didn't find myself entertained most of the time. The book had all the potential to be very exciting and adventurous, but for me, it just wasn't.
The blurb says that Ash & Bramble is a retelling of Cinderella, but I have to say that it really wasn't. Well, it kind of was, but the focus most definitely wasn't on Cinderella's story most of the time. And I was really disappointed by this fact. Cinderella is one of my favourite fairytales, so I was really looking forward to seeing how the author had made it her own story. Even though we get a bold and different retelling which in theory is really good, I think this specific retelling was just a bit too ambitious and innovative for me. The main reason why I wanted to read the novel in the first place was because I love Cinderella, and then I came to realize that the book wasn't that much about Cinderella as it was about anything else.
I really loved some of the characters though. Pin and Shoe, who are the two main characters and whose points of views alternate in the book, for example were both multidimensional and I loved their unpredictability. All the other characters like Huntsman, Zel, and Templeton were really cool characters too, but unfortunately I didn't end up caring for them that much. And of course this was a pity, because they could've made me like the novel a lot more, only if I had really cared about what happened to them. Maybe at that point when things started getting interest, I had already lost my commitment to the storyline and characters.
I feel soooo frustrated at the moment, because the concept was so genius, so great. BUT. The plot was drawn-out, the language was like from a children's book, and majority of the characters left me cold. I have to say that I started reading with no expectations and I finished with no adoration. It's not always meant to be, even if it's with a fairytale.