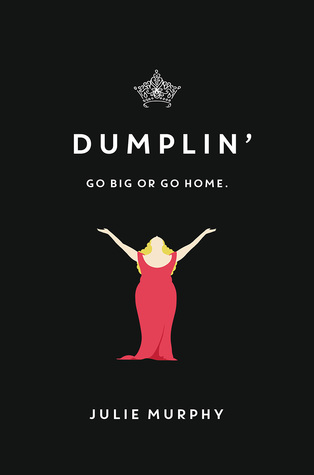 Self-proclaimed fat girl Willowdean Dickson (dubbed "Dumplin'" by her former beauty queen mom) has always been at home in her own skin. Her thoughts on having the ultimate bikini body? Put a bikini on your body. With her all-American beauty best friend, Ellen, by her side, things have always worked . . . until Will takes a job at Harpy's, the local fast-food joint. There she meets Private School Bo, a hot former jock. Will isn't surprised to find herself attracted to Bo. But she is surprised when he seems to like her back.
Instead of finding new heights of self-assurance in her relationship with Bo, Will starts to doubt herself. So she sets out to take back her confidence by doing the most horrifying thing she can imagine: entering the Miss Clover City beauty pageant—along with several other unlikely candidates—to show the world that she deserves to be up there as much as any twiggy girl does. Along the way, she'll shock the hell out of Clover City—and maybe herself most of all.
With starry Texas nights, red candy suckers, Dolly Parton songs, and a wildly unforgettable heroine— Dumplin' is guaranteed to steal your heart.
Dumplin' has to be one of my favourite contemporary reads so far, and that's quite a lot said when I can honestly say that the year 2015 has been creme de la creme when it comes to compelling contemporary books - even though I'm usually the fantasy and sci-fi geek girl, the contemporary releases this year have been my favourites so far. The level of characters' depth, the issues handled, and the inviting writing styles just have been right up my alley, and Dumplin' is a great example of that kind of book.
As sad as it is, I can't recall reading a book in which the main character was "fat" or one in which the readers were constantly reminded that the main character was a plus-size girl. This realisation hit me pretty hard - how small population of teenagers really are represented in the YA, and perhaps in majority of the genres. Dumplin' wasn't just body-weight positive, but also a personification of the praise for individuals of all shapes and sizes and whatever characteristics or quirks, body or personality related, people might have. The novel was a breeze of fresh air with the most relatable and realistic, authentic and sympathetic characters, and their stories which will have an impact on the readers. As naive as this might sound, the book itself didn't feel naive.
Dumplin' could have easily become a very cliché story about a big, small town girl who aspires to change to her town's perception of the overweight people and how everything ends up being happy and beautiful in the end, but Murphy didn't fall for that trap. Instead, she wrote a smart and thought provoking novel, deeply rooted in the reality and in the knowledge that even though the world can be a wonderful place, it can be also a cruel and sad one too. And thanks to this decision, the novel reached a completely new level of respect that a book can get from me.
But the book by Murphy wasn't just about being body-positive and commentary about accepting yourself as you are, but it was also sassy and funny, mainly thanks to Willowdean and her quirky friends. A huge plus from me that the novel had a huge element of friendship in it - the depiction of the friendships were very on point in all aspects. And of course, there was Bo.. Bo, Bo, Bo, Bo. What should we do with you? Bo is Willowdean's co-worker, and a true babe at that, and Willowdean has had a huge crush on him since forever. Their relationship was so intriguing and fun to read about as it wasn't the typical teenager relationship that you can read about in generic YA novels, but there were ups and downs, and then a bit more downs. Some people probably won't like their relationship as much as I did, but the fact that there were so many mixed feelings and twists that kept me entertained and wanting more, caused me really like the dynamic between Willowdean and Bo - it wasn't predictable or boring, ever.
I'm seriously considering pumping up my rating to five stars, but I think I need to reread the book before doing that. Even though I fiercely liked the novel, I give my 5 stars sparingly, and I want to keep it that way - just because with the all five stars I can really emphasise how special the novel was. And Dumplin' was special, almost one of a kind, and I'm really looking forward to reading the novel again as I'm sure it can handle the scrutiny that comes with the second reading. In fact, I'm almost positive that I'll like Dumplin' even more that time. But for now, I'll keep the rating at four starts, but I have to emphasise how cool yet meaningful this novel was. Excellent read.