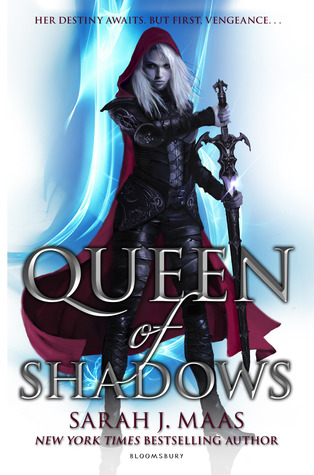 Description from Goodreads
Everyone Celaena Sardothien loves has been taken from her. But she's at last returned to the empire—for vengeance, to rescue her once-glorious kingdom, and to confront the shadows of her past . . .
She will fight for her cousin, a warrior prepared to die just to see her again. She will fight for her friend, a young man trapped in an unspeakable prison. And she will fight for her people, enslaved to a brutal king and awaiting their lost queen's triumphant return.
Celaena's epic journey has captured the hearts and imaginations of millions across the globe. This fourth volume will hold readers rapt as Celaena's story builds to a passionate, agonizing crescendo that might just shatter her world.
I have so many feels at the moment. Those who had read the book, must know what I'm talking about here. The book was quite massive compared to the other YA books - glorious 645 pages in total. So much happened in those pages, and
I was such a hot mess after finishing
Queen of Shadows
. The series has slowly, but surely become one of my favourite YA series, and the book once again proved that fantasy YA is definitely my thing. No doubt in my mind. And Maas has been developing so much throughout the series as a writer. I couldn't help myself but to just pause at times and admire some of the passages that she had written; the depth of emotion, action and dialogue just blew me away.
Haha, seriously I'm not sure where to start? Where can I since there are so many things that I want to talk about?? I actually postponed writing this review for weeks because I just wasn't sure how I could write a good review without all the fangirl nonsense gurgling.
Well let's start off with Arobynn, since we FINALLY get to see him not through flashbacks or descriptions but in the moment, in the present. Ahh, I have such a twisted and complicated relationship with Arobynn. I know that I should hate him for the horrible acts and the person he is, but I just, kind, love him as well. Or maybe I should specify that, I love how the character is build. I've always been a sucker for well developed villains, and Arobynn is, hands down, one of the best villains out there. Seriously. He is so complex, so evil, kind of hot too, so manipulative, so smart, so ambitious, and so
possessive! He is literally the personification of Satan, but I still seem to love him. Please tell me that I'm not the only one? Tell me that I'm not a twisted person for liking him so much even though he is one the major sources of grief for basically everyone.

And how about the plot. THE PLOT! I probably could've taken notes worth of several notebooks because the storyline was so entertaining, surprising, well-planned, sad, happy, just pretty much any adjective that you can come up to describe a well-written novel. Plotwise Queen of Shadows is my favourite book out of the four instalments without a doubt. Even though there were some events that annoyed/saddened me quite a bit relationship-wise, but I could totally understand why Maas had decided write the relationships as she did - the plot needs to be kept fresh and moving along.
And that takes us to the relationships. So, I hope I'm not spoiling too much when I say this, but oh damn, there was so serious tension going on in
Queen of Shadows
between Aelin and this hot dude you all know of... I have to say that even though the romance is well justified, and I can totally see it, but.. I don't know. When the guy in question had his own point of view, he just came across to me as this beast who just wanted to devour Aelin - a hormone-ridden sex maniac (I might be going a bit far with that). I guess what I'm trying to say here is that even though the relationship was hot, I didn't really like it, but I might have liked it better if I hadn't read his point of view of the events. I had LOVED and ADORED this guy before and I was so happy that he continued to be a major character in the story, but I would be lying if I said that he was everything that I imagined him to be. To me, he was way cooler and likeable before
Queen of Shadows.
Now he was just glorifying Aelin and dreaming about her every minute he got, which I also get, because he is in love with her. But still. Whyyyyy? He ended up being so predictable and one-dimensional. He has no mystery left in him at all, and I think that bugs me the most. I LOVE MYSTERIOUS GUYS.
We also get a bunch of new characters or we get to know some newer characters more in depth, which of course is awesome! We get Lysandra, a courtesan who was Aelin's arch-enemy back in the day, we get a lot more of Manon which was extremely nice because I think I have a bit of crush on her now, and then there is Aedion who has had my heart since the first line he uttered, and lastly Elide who will surely play a bigger role in the upcoming books. Even though the main story/Aelin's point of view was definitely my main thing in the book, I did come to enjoy also Manon's point of view, more so than in
Heir of Fire.
This probably was because Manon is faced with some dilemmas that she has to figure out on her own and make drastic decisions about her future - whether to follow the orders or do what her ice-cold heart tells?
The story was so epic, so monstrous in feelings and actions, and even though the book was rather long, I can't say that I was bored at any time. Some people have been saying that they felt like majority of the book was just one big build-up but I didn't feel that way. At all. Sure the book did go towards this one big event, but I mean, there was so much more happening in there as well with the relationships and character development-wise. And oh boy, was the wait for the big finale worth it? Absolutely. It has to be one of my favourite action-sequences because there was fighting, desperation, tears, fire, magic, demons, stabbing, twists, just ahhh. So good.
So, the book did have a very conclusive ending, but as we all know that the fourth book won't be last one, and there were some clues what might happen in the future. And of course we all are waiting desperately to know what the author has up in her sleeve for later! Very excited.

In sum, I think Queen of Shadows was the best book of the series plot-wise, but romance-wise slightly disappointing as at times I felt like I was reading a harlequin novel, hmm.. The actions scenes and the newer characters were obviously amazing and I can't wait to see what kind of impact they have on the later on events! GREAT, EXCITING NOVEL.