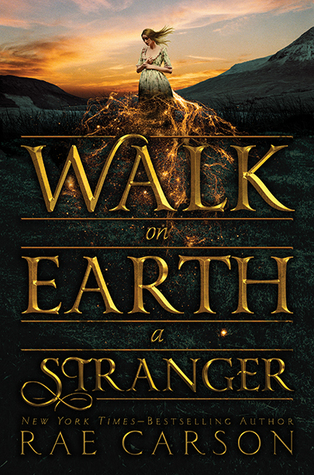 Goodreads From Description
Gold is in my blood, in my breath, even in the flecks in my eyes.
Lee Westfall has a strong, loving family. She has a home she loves and a loyal steed. She has a best friend—who might want to be something more.
Lee can sense gold in the world around her. Veins deep in the earth. Small nuggets in a stream. Even gold dust caught underneath a fingernail. She has kept her family safe and able to buy provisions, even through the harshest winters. But what would someone do to control a girl with that kind of power? A person might murder for it.
When everything Lee holds dear is ripped away, she flees west to California—where gold has just been discovered. Perhaps this will be the one place a magical girl can be herself. If she survives the journey.
The acclaimed Rae Carson begins a sweeping new trilogy set in Gold Rush-era America, about a young woman with a powerful and dangerous gift.
Initial excitement: YAAH!
Post-reading excitement: Meh.
I was so excited, so excited for Walk on Earth a Stanger - the premise sounded so different from the mainstream YA literature, and indeed it really was different. The setting takes place in 19th century America when the gold rush was at its finest, and the focus is on Leah, or Lee, who has a magical power - to sense gold when it's nearby. Of course, this curious ability of hers sets her on a course of events that end up being a start of great sorrow, but an adventure too.
Even though I'm not the biggest fan of gritty western things, the blurb sounded so fascinating that I just knew I wanted to give the novel a shot. I mean, there are millions of possibilities what could happen in the book, both good and bad ones. So, I was aware that Walk on Earth s Stranger was going to be a very Western focused book, but I wasn't really expecting it to be so Western with the bandits and their shotguns. But you really can see the amount of research the author must have done while planning and writing the novel, and while it was impressive in its own, it confirmed my, well not dislike, but apprehension towards the time period.
To my liking, there was too much about the practicality and technicality of the 19th century's gold rush, and too little of the supernatural. In fact, in my opinion the 'goldseer' element neglected. I can imagine that those who are really interested in the time period, the novel will be a real treat for them, but for me the worry for the cows and different troubles with the wagons weren't that exciting. And the thing is that there was so much description about the ways and customs of that time, and I found myself skimming through those passages. Even though they could've been interesting to others.
That being said, the relationships and the dynamics between the people were quite something else. I loved that there were plenty of characters (even so that the author had decided to include a list of them in the beginning of the book), and how they interacted with each other, mainly with our heroine, Lee. The dialogues were always entertaining and I never got the feeling that the dialogues were stalling or unnecessary bulks just to fill up the pages. They were smart and well written, and such conversations between characters always make me appreciate the authors' dedication to dialogues.
What I really liked about the novel though, was the depiction of the gender roles in the 19th century, something that you can still see even this day. A minor spoiler: the fact that Lee had to disguise as a boy brought light to the interesting topic, how a person is treated differently based on her gender, even if the actions are almost identical. Vice versa, it was interesting to read what men were expected to do and what code to live by. This subject was quite subtle most of the time, but occasionally the stark contrast between the expectations of women and men were striking and honestly a bit appalling from time to time. But hey, that's history for you and I think things have been a lot worse as well. And it was interesting as well to read about it.
Even though I really enjoyed the storyline in general, the number of characters, and the bit more serious topics, I was also a bit bored from time to time too (the first 25% was really intriguing and exciting, and then towards the end the story got better, but the middle part was dragging). I didn't really find the excessive details of that time or the long descriptions of traveling in that time very appealing. Lee was a great heroine and I seriously think that the second novel is going to be so much better than the first one, but I'm not sure if I have to motivation to invest in this series. We'll see.