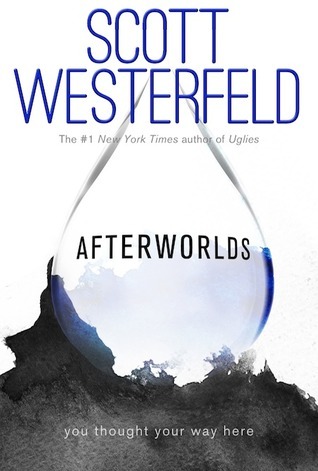 Description from Goodreads
Darcy Patel has put college and everything else on hold to publish her teen novel, Afterworlds. Arriving in New York with no apartment or friends she wonders whether she's made the right decision until she falls in with a crowd of other seasoned and fledgling writers who take her under their wings…

Told in alternating chapters is Darcy's novel, a suspenseful thriller about Lizzie, a teen who slips into the 'Afterworld' to survive a terrorist attack. But the Afterworld is a place between the living and the dead and as Lizzie drifts between our world and that of the Afterworld, she discovers that many unsolved - and terrifying - stories need to be reconciled. And when a new threat resurfaces, Lizzie learns her special gifts may not be enough to protect those she loves and cares about most.
Afterworlds
is a very different novel compared to the generic YA novels. The current novel includes two separate stories of two different genre. The main plot (in my opinion) follows Darcy, an 18-year-old inspiring novelist who gets the chance of her lifetime: her book, Afterworlds, has been picked by a publishing company and its going to be published next fall. In order to purse her dream to become a respectable writer, she ditches college and moves to New York to work on her novel and its sequel. The other storyline is Afterworlds, the book that Darcy has written and currently making some adjustments on. Afterworlds is about a girl named Lizzie who experiences a near-death experience, and thanks to it, is now able to see ghosts and travel in the afterlife, which may be pretty darn cool but also brings a dark side with it.
I loved the originality and the risk Westerfeld took when writing this novel. I think it can be tricky to not include both contemporary and paranormal genres, but also to make these completely separate stories. I was first afraid that the including two completely different stories would make them eat each other alive, leaving virtually nothing to enjoy about. However, I was pleasantly surprised when I realised that both storylines were entertaining and funny, with a bit of angst in both. I'm not sure if Westerefeld did it purposely or not, but while Lizzie's storyline was okay, Darcy's was much more relatable and interesting. Afterall, Lizzie's story was a debut novel by an 18-year-old (but this doesn't mean that 18-year-olds cannot be talented writers!!!!!! maybe less experienced that's all).
Darcy's experience as debut novelist and as an upcoming writer was so fun to read about. I'm sure Westerfeld has gone plenty of the same episodes as Darcy with all the draft deadlines, BEA events, promoting tours, and various other things. I have never really given a thought what sort of other things come along with being a writer, besides the creation of stories. It was really entertaining and even informative to learn about what sort of processes the writers go through when publishing a book, and the best part was that Westerfeld made this experience a fun one. I'm pretty sure that quite many readers have fantasised about writing and publishing their own novels, and I loved how Westerfeld took this into consideration. For me, it's rare to read about writer's experiences as a published author.
Even though Lizzie's story was interesting as a concept (even though a bit used I might add, even though it could be that Westerfeld was commenting/criticising the generic paranormal novels too) with the ghosts and the paranormal romance, I was so much more compelled by Darcy's storyline. The book was GLBT which I didn't even know until the romance started developing. I found Darcy and her love-interest and how their relationship develop a lot more interesting than and Lizzie's love life. Even though both were experiencing their first-loves, Darcy's (or Westerfeld's??) story felt more real, more intimate than Lizzie's, which surprised me quite a bit. I'm usually all for the paranormal romances, but this time the contemporary romance won the war.
But I loved the parallel lives of Darcy and Lizzie. Darcy is going through this transition period in her life, and she without a doubt projects those problems and difficulties she faces into her book, Afterworlds. When the writer goes through a rough patch, so does the main character. This symbiosis makes a beautiful circle with all the events that are included in both Westerfeld's Afterworlds and Darcy's Afterworlds. It also gives insight to how much the authors pour themselves into their writings, and it's really wonderful yet painful at the same time.
Afterworlds was a fun and different, even though not the quickest YA novel to read. It took a bit of time for me to get into the novel and its flow, but once I was aboard, I really was aboard. However, while writing this review, I can't help to wonder why I didn't like to book more then if it was pretty good? I would like to give it a better rating, but something tells me that the book could have been better, but how? NO IDEA, and that's driving me crazy. I guess you can't always fall in love with books you read, even though you have liked them.