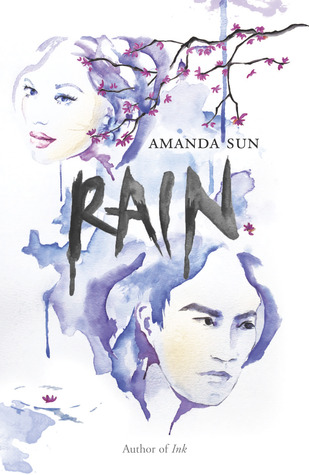 Description from Goodreads:
American Katie Green has decided to stay in Japan. She's started to build a life in the city of Shizuoka, and she can't imagine leaving behind her friends, her aunt and especially Tomohiro, the guy she's fallen in love with. But her return is not as simple as she thought. She's flunking out of Japanese school and committing cultural faux pas wherever she goes. Tomohiro is also struggling—as a Kami, his connection to the ancient gods of Japan and his power to bring drawings to life have begun to spiral out of control.
When Tomo decides to stop drawing, the ink finds other ways to seep into his life—blackouts, threatening messages and the appearance of unexplained sketches. Unsure how to help Tomo, Katie turns to an unexpected source for help—Jun, her former friend and a Kami with an agenda of his own. But is Jun really the ally he claims to be? In order to save themselves, Katie and Tomohiro must unravel the truth about Tomo's dark ancestry, as well as Katie's, and confront one of the darkest gods in Japanese legend.
I was really captivated by Sun's first book of the trilogy, Ink, when I read it over one year ago. Ink had a phenomenal setting and original plot which made me
really like the book. However, there also were some things that I didn't really like such as the possessiveness of the main character Katie towards her new boyfriend, Tomo. Nevertheless, I found the the book a really refreshing and unique from the generic YA novels, so when I saw that Rain was requestable on NetGalley, I requested it immediately. After all, I was really intrigued how the plot was going to develop and also experience some Japanese culture once again. And I most definitely wasn't disappointed!
I feel like Sun had probably gotten a lot of feedback similar to mine for the first book, as all the "flaws" that were in the first book were missing from
Rain.
Katie wasn't that stalker girl anymore, but independent, caring, and determined. I liked her a lot better in this second book of the trilogy as her personality was stabler and better grounded. Katie's actions made a lot more sense and I was able to identify with her 101% now. The fact that I wished that I was more like her, conveys pretty well my adoration and liking towards her. I really can't wait to see how much she will grow in the third book which is due in summer 2015 (how am I able to wait until that long??)
Once again, Sun does amazing job depicting Japanese culture and customs. I used to be obsessed with Japanese culture, and I basically dedicated almost 7 years of my life to daily researching and studying of Japan as a country and Japanese (until I became a university student and the new life took over), so I think I can state to some extent that the author did fantastic job when demonstrating the language, manners, and customs of Japanese. In fact, I felt like I was reading a novelisation of J-drama - it was so good. I think everyone who is obsessed with Japanese drama series should read these books because they will blow your mind as a non-Japanese person has actually created this fantastic Jdrama/supernatural story.
The plot was sooo amazing and captivating, and not just romance-wise. There were twists and turns that I wasn't able to see coming and I only paused reading because I had to sleep - I think I would have read the book in one sit if it was possible. The story didn't have any annoying fillers, but all the events were important and intriguing and I loved the fact I kept learning something new while reading, even if fact was mixed with fiction. In addition to great storyline, I loved the fact that the romance between Katie and Tomo got deeper which of course made me even more invested in the story. I was also really surprised that I wasn't really that bothered by the love triangle, even though I usually hate them. In Rain, the relationship drama was just so well executed that I sort of liked the love triangle! Who would have guessed that?
So, yes. I loved Rain
. I really, really, really loved it. I'm so glad that even though Ink, the first book,
didn't become my favourite, I decided to continue with the trilogy because
Rain
might be one of my favourite reads of 2014. The spiralling down with Kami and Katie just sucks you into the story, makes you breathless and causes you to demand for more. The beautiful watercolour illustrations were a sight for sore eyes as the equally stunning story progressed. I can't simply wait for the third book as I know it will have a really epic and phenomenal ending, and I have hopes that the third book will be even better than the first, or even the second.