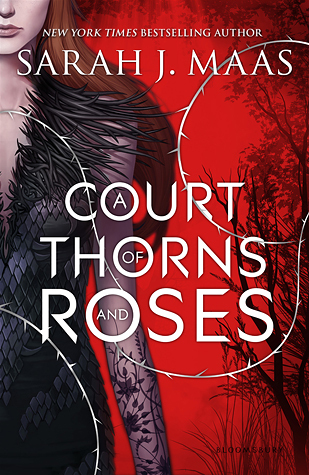 Description from Goodreads
A thrilling, seductive new series from New York Timesbestselling author Sarah J. Maas, blending Beauty and the Beast with faerie lore.
When nineteen-year-old huntress Feyre kills a wolf in the woods, a beast-like creature arrives to demand retribution for it. Dragged to a treacherous magical land she only knows about from legends, Feyre discovers that her captor is not an animal, but Tamlin—one of the lethal, immortal faeries who once ruled their world.
As she dwells on his estate, her feelings for Tamlin transform from icy hostility into a fiery passion that burns through every lie and warning she's been told about the beautiful, dangerous world of the Fae. But an ancient, wicked shadow grows over the faerie lands, and Feyre must find a way to stop it . . . or doom Tamlin—and his world—forever.
Perfect for fans of Kristin Cashore and George R. R. Martin, this first book in a sexy and action-packed new series is impossible to put down!
Finally!! Finally, I got this novel in my hands and had the chance to devour it! And of course (just as expected), Ms. Maas didn't let the readers down this time either. The new trilogy from the author continues with the same high quality as her Throne of Glass series: multidimensional characters, mysteries and secrets, twist and turns, and naturally a heart-pounding romance.
A Court of Thorns and Roses was a such enjoyable retelling of Beauty and the Beast (reading the book really made me want to watch the Disney movie!!). The downfall of doing a retelling is of course that at times the plot is somewhat predictable, but I was really proud of Maas (can I say that of an author who I don't even know??) for integrating small and big original ideas to the concept, making the novel more surprising and exciting than I would have first assumed. Being a fan of the original Beauty and the Beast story, I feel really protective of it. Maas however did justice to the original fairy tale by keeping the original themes of personal growth, feminism, trust, and love.
Of course Maas took some artistic freedom while writing her novel and it paid off very well. For instance, I really enjoyed that she had decided as much as she did to write about Feyre, the main character's, family, and that she didn't paint them simply as 'good' or 'bad'. For example, one of Feyre's sisters, Nesta, was a really intriguing character. Outside she appeared cold and calculating, but there was so much more to her. I loved that Maas gave all the other characters the needed depth to them, not just in the case of Nesta. By doing this, the author reinforced my opinion that minor characters can be influencing power on the main character and the plot progression, and that it should always be done. The novel simply reaches one level of deeper meaning by writing all characters multidimensional, not just the two main characters.
I suppose I do have one bone to pick with A Court of Thorns and Roses. Tamlin, the 'Beast', wasn't exactly a beast. Yes, he had to surrender to magic every once in a while and so became a bit animalistic, but most of the time Tamlin was a really patient, kind, generous, and really smoking hot. Does something sound a bit wrong there? In the original story the Beast is described having a 'deformity', but in the Maas's version the Beast had a mask hiding his face. This was a bit disappointing, at least for me, because I was really looking forward to read how Maas had decided to deal with the theme of inner beauty. Of course this theme was still handled in the book, but not to the same extent as I had hoped. A shame.
I have to mention there was this another character, an anti-hero you could call him, who was just my absolute favourite thing as I most definitely had a love-hate relationship with him. I'm 100% that Maas is going to include him in the upcoming instalments, and I just can't wait what the author has in store for us in terms of this complicated character. I can't help it but I have a real weak spot for misunderstood, dark guys. Oh, Rhysand.
Maas laid out a very strong basis for the trilogy and I have no doubt that the trilogy will get only better with each subsequent book. That's sort of a speciality of the author. I still like Throne of Glass series better than A Court of Thorns and Roses, but this is the first book of the trilogy so who knows? Maybe I'll change my mind when I read the other books (yes, I most definitely will read all the books by her because there hasn't been one book by Maas that I haven't liked). Even though A Court of Thorns and Roses wasn't as dark as I had hoped, but I was entertained by Maas's magical writing and incredible characters as well as the twists and turns from the very beginning to the last page.