Here is my haul from this week: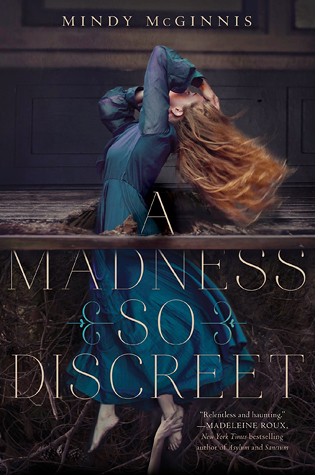 by Mindy McGinnis
Description from Goodreads
Grace Mae knows madness.
She keeps it locked away, along with her voice, trapped deep inside a brilliant mind that cannot forget horrific family secrets. Those secrets, along with the bulge in her belly, land her in a Boston insane asylum.
When her voice returns in a burst of violence, Grace is banished to the dark cellars, where her mind is discovered by a visiting doctor who dabbles in the new study of criminal psychology. With her keen eyes and sharp memory, Grace will make the perfect assistant at crime scenes. Escaping from Boston to the safety of an ethical Ohio asylum, Grace finds friendship and hope, hints of a life she should have had. But gruesome nights bring Grace and the doctor into the circle of a killer who stalks young women. Grace, continuing to operate under the cloak of madness, must hunt a murderer while she confronts the demons in her own past.
In this beautifully twisted historical thriller, Mindy McGinnis, acclaimed author of
Not a Drop to Drink
and
In a Handful of Dust
, explores the fine line between sanity and insanity, good and evil—and the madness that exists in all of us.
by Patrick Ness
Description from Goodreads
What if you weren't the Chosen One?
What if you're not the one who's so often the hero in YA fiction; who's supposed to fight the zombies, or the soul-eating ghosts, or whatever this new thing is, with the blue lights and the death? What if you were like Mikey? Who just wants to graduate and go to prom and maybe finally work up the courage to ask Henna out before someone goes and blows up the high school. Again. Because sometimes there are problems bigger than this week's end of the world and sometimes you just have to find the extraordinary in your ordinary life. Even if your best friend might just be the God of mountain lions...
by Robert L. Anderson
Description From Goodreads
Odea Donahue has been able to travel through people's dreams since she was six years old. Her mother taught her the three rules of walking: Never interfere. Never be seen. Never walk the same person's dream more than once. Dea has never questioned her mother, not about the rules, not about the clocks or the mirrors, not about moving from place to place to be one step ahead of the unseen monsters that Dea's mother is certain are right behind them.
Then a mysterious new boy, Connor, comes to town and Dea finally starts to feel normal. As Connor breaks down the walls that she's had up for so long, he gets closer to learning her secret. For the first time she wonders if that's so bad. But when Dea breaks the rules, the boundary between worlds begins to deteriorate. How can she know what's real and what's not?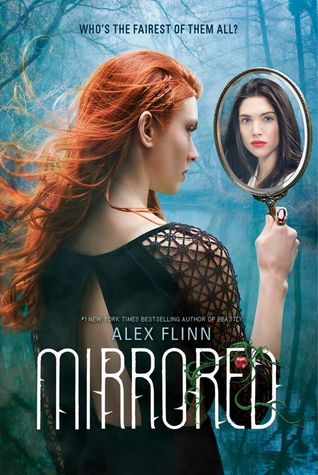 Mirrored
Description from Goodreads
In #1
New York Times
bestselling author Alex Flinn's modern and mysterious retelling of
Snow White
, beauty is in the eye of the beholder and true love doesn't necessarily mean Prince Charming.
Celine's life is the stuff fairy tales are made of. She's beautiful, talented, and brave. Unfortunately, her tale comes complete with a wicked stepmother! When Violet steps into Celine's life, everything changes and weird things begin to happen to her—bizarre accidents, strange illnesses, and rabid animal attacks. Celine doesn't feel safe anywhere. It's almost as if some hateful witch is out to get her.
And there is. Violet has been waiting all her life to have Celine's father to herself. Getting rid of his gorgeous daughter is child's play for a witch as powerful as she is. Happy-ever-after isn't enough for Violet. She wants to be the fairest of them all, and Celine is in the way . . . but not for long.
Forced to take refuge with her friend Goose and his family, Celine gives up everything she loves and goes deep undercover. But will it be enough to fool Violet, or will Celine's fate be decided by a reflection in a magic mirror? And where do you find Prince Charming in Miami anyway?
Mirrored
is a modern retelling of
Snow White
—told from the points of view of Violet, Celine, and Goose—with all the magic and mystery readers will love.
by Sarah Prineas
Description from Goodreads
When the glass slipper just doesn't fit…
The tale of Cinderella has been retold countless times. But what you know is not the true story.
Pin has no recollection of who she is or how she got to the Godmother's fortress. She only knows that she is a Seamstress, working day in and out to make ball gowns fit for fairy tales. But she longs to forsake her backbreaking servitude and dares to escape with the brave young Shoemaker.
Pin isn't free for long before she's captured again and forced to live the new life the Godmother chooses for her—a fairy tale story, complete with a charming prince—instead of finding her own happily ever after.
Sarah Prineas's bold fairy tale retelling is a dark and captivating world where swords are more fitting than slippers, young shoemakers are just as striking as princes, and a heroine is more than ready to rescue herself before the clock strikes midnight.
Oh boy, I have a lot of reading ahead of me! But I don't mind at all since all of these sounds so amazing!! I'm dying a little because I'm so happy of these ARCs - especially The Rest of Us Just Live Here. Can't wait to read these!